Return to main page
|
Return To Article List
Just 15 copies available of this amazing system...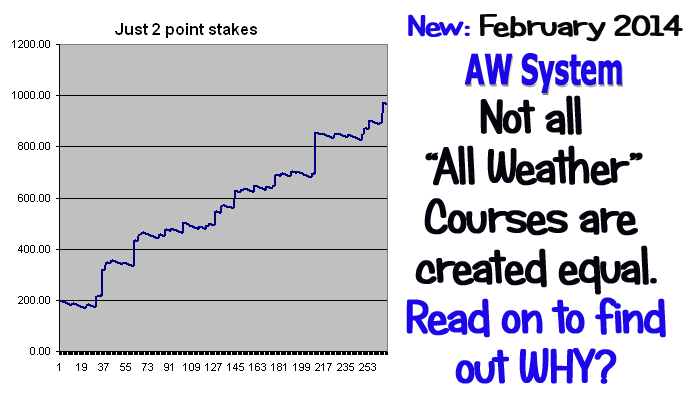 Watch this video to see more details...

Full results exposure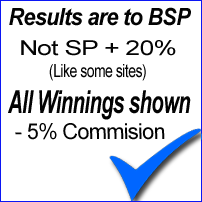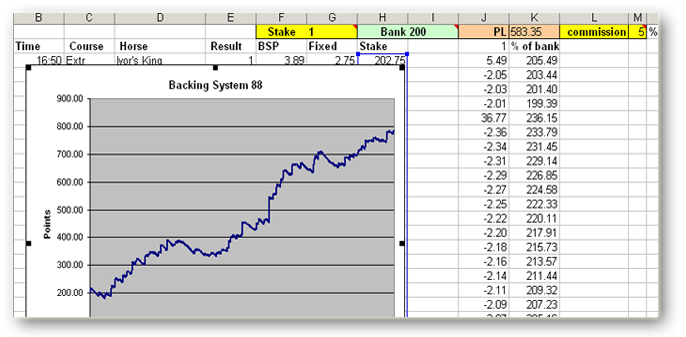 How many systems have you purchased that give you more than 1 selections a day?
Have you ever wondered why you always get so many?
Read on to find out why…
Have you ever seen a professional gambler at work?
Did you know that they often only have 1 selection a week sometime less?
Because they are looking for the chance to not only pick a winner…
...But pick a winner at a good price.
They are not worried about how many selections they get.

They are looking for horses that they think have a better chance of winning than everyone else thinks.
The pro's are careful about the horses they follow and they are well aware of how they run on different surfaces and at different courses.
So why do you think most systems you see have one or more selections a day and boast lots of profit?
Well the answer isn't pleasant but it's true…
Simply because you probably wouldn't be interested in the system otherwise!
I can tell you from my own experience of selling systems for over 12 years.
The ones that sell the best have the most selections.
People can not bear to wait around for one selection a week.
There is a big problem with this...
...It causes system developers to "loosen" up their selection methods.
The end result is…
A system that will have up and down swings and sometimes the down swings are so bad you just give up.
You have probably already given up on at least one system, probably more than once because there were just too many losers.
Have you ever gone back to a system 6 months after abandoning it, only to find it's actually improved and sometimes won back all it's lost?
The point is that systems that have plenty of selections will have big swings sooner or later.
What you are about to find out about is a new type of system.
This is the first in a new range of systems we are developing that are more in line with how the average professional operates.
These new systems are concentrated on a very select number of runners that fit a very strict criteria.
The result is a system than ends up selecting very specific runners at just one course…
In this case Dundalk AW
Dundalk is Ireland's only All Weather (sand) race course but it normally has at least one meeting per week.
So although this system is very choosy about the runners it picks there is normally at least one (sometimes more) selection a week.
But don't be fooled by the quantity…
…It is the quality you should be looking at.
A lot of the time these are selections your average punter is not expecting to win (just like the professionals).
So often when they do win…
They WIN BIG.
87.06, 55 (twice), 43 (most recently 31.35).
This system has taken a 200 point bank to 960 points with a stake of just 2 points.
If you were and average punter with a £500 bank and you staked just £5 on each selection your bank would now be worth over £2400
If you were lucky enough to have a bank of £1000 and stakes just £10 on each selection your bank could now have stood at over £4800
Choosing a % of your bank as a stake and recalculating the stake every time you win or lose would have yielded much better results.
But we all know past results do not always equal future results…
That's why we are very open about our results…
Our results come through a "live" feed.
So they can not be changed or manipulated.
The selections are automatically generated by our special software and delivered automatically to you.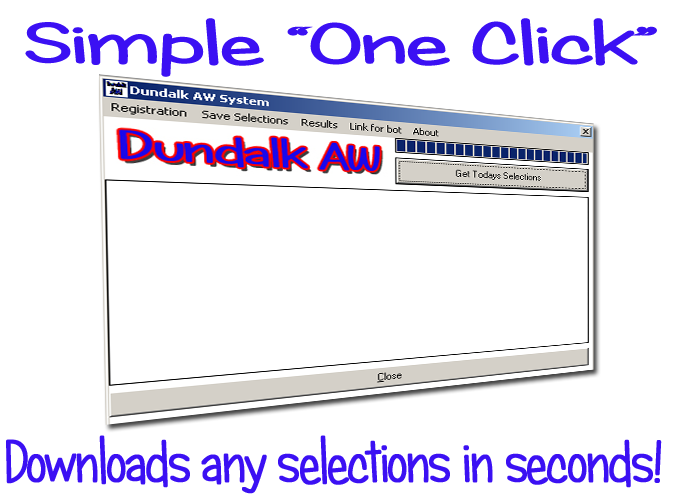 The software even contains a special link that you can use with any browser (I.E., Chrome, Safari, firefox) so you can pick up the selections from anywhere.
So here is your chance to get one of the limited copies of this unique system.
Here are some stat's for you.

This Update 14/03/2014

Total selections: 275
Wins: 49
Profit: (1 point stake) 411.04
Strike Rate: 17.82%
Return on investment: (ROI) 149.47%
Average winning odds: 13.69
Highest winning odds: 87.06
Lowest Winning odds: 2.3
Prior update (21/02/2014)
Total selections: 268
Wins: 47
Profit: (1 point stake) 383.12
Strike Rate: 17.54
Return on investment: (ROI) 148.52
Average winning odds: 13.53
Highest winning odds:87.06
Lowest Winning odds: 2.3
(Note: We limit all our promotions to help keep the average prices as high as we can).
So when we sell out that's it, all gone!
Lock in your copy today by choosing the best option for you…
Please remember when they are gone they are gone.
A few questions you may have…
Q. How can I trust your results?

A. All our systems are automated. Once we create a system the selections are generated from a special link that pulls out the results based on the information in that link.
If we change the selection criteria then the results will change and you will know we have done something.
Also the daily selections are created using the same information so we can not change the selections. Everything is auto generated to protect you and us.
Q. Why don't you deliver selections by email.

A. To be honest we have tried this for years but what with ISP's blocking our emails or ending up in junk/spam folders or just getting lost we decided to give up on the idea.
We give you the choice of using the software or a specially URL link that you can put in any browser (ie, firefox, google) and it will show you the daily selections.
Q. Why are there no selections on Monday, Tuesday, Saturdays and Sundays?
A. Dundalk like other courses only put on so many meetings per year.
So mainly the reason is they don't have meetings normally on those days.
But I also found that when they do they produce profit.
Wednesday, Thursday and Friday shows profit.
Q. What guarantees can you give.
A. None! I want to be straight with you. When it comes to gambling there are no guarantees.
All I can do is show you what happened in the past and what is happening now.
If you don't like the look of anything on this page then please do not purchase.
Come back in a few days and see what is happening.
I know I have restricted the numbers. But that doesn't mean they will sell out today tomorrow or next week.
But when they do the buttons disappear.
Q. Why do you restrict the numbers?
A. Two reasons...
1... I really do believe that anyone using a system infuences a price. Yes strike rate matters but so does Average Winning Odds and it can hurt more than strike rate.
2... You can see we test these systems ourselves and so we want to make money using them as well.
We have just found in the past that too many people using these systems tend to make them unprofitable.
If you have any further questions then please do not hesitate to get in touch.
But also ask yourself this…
How many sites give you totally up-to-date results? (Now 7 days a week)
How many sites show you the proper BSP prices and minus Betfairs commission?
How many sites base their systems on proper research and show you the full set of results covering 15 months?
Not many…
But we do…we can not hide.
You can check through the results and check the prices yourself. You can even book-mark this page and come back daily to check.
Take the life-Time option and get the FULL "How To" Selection Method.
Important information:
The selections are available 7 days a week and the results I have shown are based on following the selections when they are available.
Selections will be available by 10 am each morning (sometimes earlier) it all depends on when the mornings data is finalized but we try to get this finished by 8am but it doesn't always work out that way.
Note that Weekends may be a bit later.
After purchase you will be taken to a page where you will be able to download the software and manuals and my system manual.
Please note the following before you decide to purchase.
This is a "no" refund offer. If you commit to purchase then please do not ask for a refund. We are offering the selections daily (when they are available) through software. We are not making any guarantees to the number of selections, the profit or that the selections will continue to perform as they have so far.
The software has been tested fully on MS windows – xp, 7 and 8.
Please do not order if you have a mac the software won't work.
This offer is for a one year's license on one computer only (unless you take the life option).
These are "back" selections.
If you are unsure in anyway, about these selections or if the system is for you, then please do not purchase.
Contact us instead and we will gladly answer any questions you have about the system, software or selections.
Thank you as always for reading I really do appreciate it.
Malcolm
"What else do you need?"
P.S. I will remove the button when all 15 copies have been sold.
---