A new level of Automation. A new level of Control
Who else wants one of the most advanced betting tools on the market?
Learn how this set and forget easy to use automated betting software can help you.

AMAZING! New Bonus
Betfair Timer Price Tool

See below for more details.


Not just HORSE RACING - Now works on Greyhound, Football and Tennis.

Betfair approved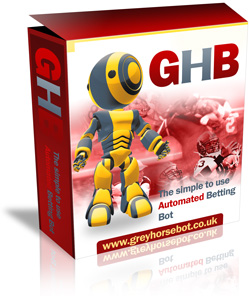 Unfortunately on betfair today you are up against betting bots just like GHB, so instead of fighting the crowd why not get into the action and let this software do the hard work for you.
Whether it is Horses, Greyhounds or Football. Straight backing, laying or trading the GHB can handle it easily.
** Limited number available **

Thank you so much for the grey horse bot. I think it's 19 days that I've been using it, and in that time I've doubled my £100 starting bank. brilliant! I've found it to be very consistent and as you say, it usually wins in the first few races of the day.

I've been very restrained in it's use and I'm trying to keep to your guidelines as much as possible. I've set the profit low and waited for the bot to win and stop, then re-started it a couple of times to do the same. But only if there are still a lot of races still to go!

I'll definitely be a continuous subscriber to this one.
All the Best
Chris.
From Malcolm Pett
Sporting Bots Limited
Horse racing has always been my main interest when laying on the exchanges, but now I have found a even better way to add a bit more to my income using a market that has 3 times as many daily races, only 6 runners and no cheating jockeys to worry about!!!

reyhounds are so unpredictable it is great for people who like me use betfair.com to bet on runners to lose, and you can do it is easily with this software.
It really does make me angry when I see people claiming you can win £1000's when we all know to do that you will need a huge betting bank to start with which allows you to bet £100's on each race, but we are not all that lucky.
The real way to win is to make small amounts from different methods, investors call this "spreading your risk" and it works for them and it will work for you as well, and one place you can make a steady daily amount is on the greyhounds.
Typically greyhound meetings run every 10 minutes and are normally split into 3 daily sessions, shared between two courses which means you have around 72 or more races to use a day, a few more than horse racing!
When I set out to create a system to use with the greyhounds I realised quite early that one of the biggest problems was that you could miss a race quite easily, even a phone call could distract you long enough to miss a race. 10 minutes goes quicker than you think.
So after already inventing several betting bot's it wasn't long before I contacted a programming team to help me produce a bot that would make betting on the greyhounds automatic.
After several months of testing I was pleased to announce the release of the Greyound Bot, but now several months later the bot has been improved to allow you greater flexibility.
We re-named the Greyhound Bot, Grey Horse Bot , because you can now use it on Greyhound and Horse races and now football, Tennis and snooker. Set up this software to manually (you choose the races and runners) or automatically (based on a price range) select runners.
I often get the question. "What is a bot?"
Well a bot (short for robot) is a software programme that can automatically bet for you using the criteria that you give it to follow.
Clever bot!
The real beauty is that the Grey Horse Bot does it automatically for you, it takes less than 5 minutes to set it up and then it automatically places bets based on the criteria that you give it, you can even use the ones we give you in the Grey Horse settings Manual (or from the bonus area).
It's even safe... you can set your maximum acceptable loss on the odd occasions things do not go your way.
Click Here to see the feature list (opens a new window)

The Bot is fantastic, thank you.
I have steadily been making £10 a day (£2 stakes) and am thrilled to bits.
I set it up in the morning before work and return home to find a message that my profit has been met and the Bot has turned itself off.
Fantastic!
Keep up the great work.
Best Regards,
Preston.
The Grey Horse Bot also has to betting modes. Automatic and Manual.
Automatic allows you to bet on selections based purely on a number of factors.
Favourite: Yes / No
Odds Range: from 1.00 to 100 or anything in between.
Number of Runners: Runners in the race.
Place: 2, 3 or 4 in any combination.
TTS(Start): Time before off to start betting.
TTS(Stop): Time before off to stop betting.
Go in play: Keep on betting up to the end of the race.
Check Odds only once.
All the above options can be combined to create your perfect betting criteria.
Safety:
Any one who tells you that you can not lose when you bet is seriousley giving you bad advice. Lossing is just as much a part of betting as winning, but the trick is to win more than you lose, that's how you make money.
But to make sure you are as safe as possible when using the Grey Horse bot, we have added 4 main ways to stop the bot.
Stop Profit: You can stop the Grey Horse bot if it reaches your profit target.
Stop Loss: You can stop the Grey Horse bot if it reaches your maximum loss target.
Win Streak: You can stop the Grey Horse bot if it wins "x" amount of races.
Lose Streak: You can stop the Grey Horse bot if it loses "x" amount of races. New options added all the time!

Again all the above options can be combined for you to find the best settings that suit you.
These are only a few of the options available.
So wouldn't you rather a low risk strategy that you can use every day automatically to boost your bank balance, pay of a debt or save for a really good holiday, or are you going to believe the hype and buy another system that promises £1000's?
We recently started a survey* and here are some interesting facts.
Did you find GHB easy to set up? 95.85% said YES
Were the instructions clear? 91.67% said YES.
Do you think GHB is good value for money? 95.83% said YES
Would you recommend GHB to other people? 97.92% said YES
Although we would have liked 100% on everything we think you will agree that this is a pretty good score.
Do you want to know how much it is going to cost?
Well rather than sell you the bot for several £100's, which the Grey Horse bot is easily worth, I have decided to rent it to users instead. That means you do not have to make a big initial out lay, and even it you don't like it after using it for a while, you haven't lost a fortune.
Grey Horse Bot subscribers get the following.
AMAZING BONUS #1
Grey Horse Bot for the Australian Betfair Market .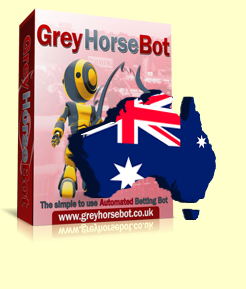 Not only have we developed the Grey Horse Bot for the Betfair main market but there is also a Bonus copy specially for the Australian markets.
Betfair uses a special wallet system for the Australian market and with this version of GHB-Lite you can take full advantage of these races.
ManyAustralian races are now included with "in-running" markets which makes them even more interesting.
AMAZING BONUS #2
Grey Horse Bot Settings Manual.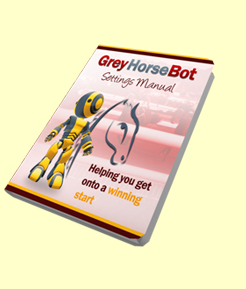 I know betting is difficult that is why (unlike many people who try to sell you things) I am continually testing scenario's with the bot. If you are a member of my free tips selections then you can see everyday, what settings I am trying.
But to keep all users informed I also add them to the Grey Horse Bots Settings Manual .

Just updated to include a Place and Trading scenario.
AMAZING BONUS #3
The SPB System Builder On-line version.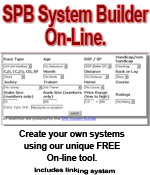 NEW: This bonus will allow you to use the on-line SPB System Builder.
You can filter races by: Race type, age, handicap/non-handicap, c,d,cd,bf, month, distance, Jockey, Trainer and course.
You can see results to any stake or bank size and you can back or lay.
Plus: Once you create a system you can use the unique Grey horse Bot linking system to get the selections AUTOMATICALLY daily.

Plus: Also includes a 6 Month "How to create your own betting system" course (delivered monthly).
AMAZING BONUS #4
Free horse racing systems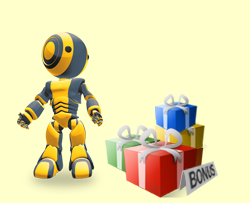 Although we give our members lots of tools to create their own systems...

...We also give then many of the ones we create.

We normally add at least one new system to the site a month but this can sometimes be more.

If you join our email list you will hear about them!
AMAZING BONUS #5
NEW: Rating System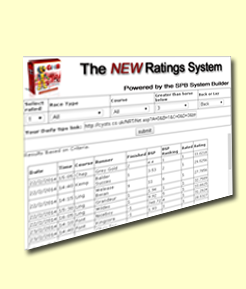 Recently we created a new rating system for Grey Horse Bot members.
Based on our continually growing SPB System Database (with over 155,000 records growing daily) we rate each runner in every race based on 14 form elements (read more here).

As always the ratings can be used automatically with the Grey Horse Bot using the URL tips linking System.

AMAZING BONUS #6
Full Support and updates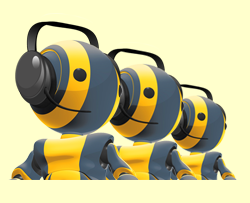 Every Grey Horse Bot subscriber has full support by either telephone, email or our dedicated help desk.

You can also try out the latest Beta versions before they go live and of course get the new versions as soon as they are released.

AMAZING BONUS #7
NEW: TJ PROFIT FINDER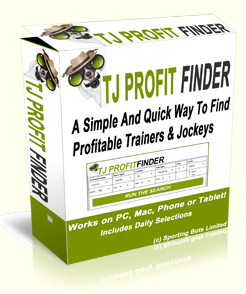 Every one always tells you that following Trainers and Jockeys in form is profitable.

But until now most information you have been given is out of date....

...Sometimes by weeks, months or even years.

Not any more!

TJ PROFIT FINDER* allows you to quickly identify profitable Trainers and Jockeys on Hurdle, Chase, Flat, AW or NHF
Easy to use and works with the Grey Horse Bot linking system.

*Lite version of TJ PROFIT FINDER
AMAZING BONUS #8
NEW: Race Card Radar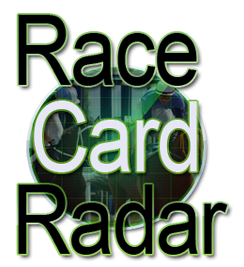 This Bonus allows you to automatically search for selections without having to look at a race card

This software lets you set up over 30 filters and create a special link that you can then use with the Grey Horse Bot to download your selections.

This could save you over 182* hours in time every year

And it's a FREE bonus to Grey Horse Bot Subscribers.



*Based on 30 minutes a day looking for selections.
AMAZING BONUS #9
NEW: Trainer Profit Finder







We decided to revisit the way we look at Trainer Stats.

And we came up with an easy way to drill down and see information about any trainer you choose.

The software includes race win information and all horses run by the trainer.

Lots of useful information to help you find profitable trainers.

Also includes the normal Grey Horse Bot linking System.



AMAZING BONUS #10
NEW: Betfair Price Timer tool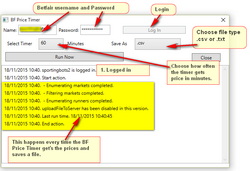 This is the latest bonus we just added to the GHBot members area.

With the Betfair Timer Tool you can record prices of all horses running at Betfair from every 1 minute to every 5 hrs.

This information could show you the best time to bet on your runners or even give you valuable trading information..

And as always it is a FREE tool for all GHBot members to use.


So because they are bonuses you could be forgiven for thinking that they have no "Value".
But that's just not true.
These are not just some PDF bonus put together to try and create some value.
These are tools that have been specially put together to help you create your own systems or to save you time.
And in the case of the free systems even to give you a chance to make some profit.
Each one of these bonuses on their own could easily be worth £100's a year to use.
But even if you just said they were worth £100 each for a years use then that is £900 but in reality is probably nearer to £1700.
But you don't have to pay a penny extra they are all included as part of the GHBot service.
If you decide to carry on using the bot after the first 30 days, you will then be charged £27 and £27 every 30 days for as long as you subscribe.
It goes without saying that during your membership you will be entitled to any updates to the Grey Horse Bot .
The Grey Horse bot works with football...
So now you can automatically bet on in-play matches and use many of the football systems that are available.
So now is the time to forget the hype and save yourself lots of time by subscribing to The Grey Horse Bot Service.
Click Here to get your copy now- there is still time.
Have a good day's racing.
Malcolm
Malcolm@horseracingsystemsuk.com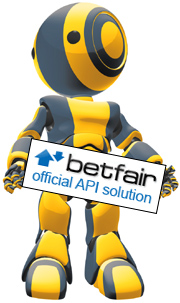 P.S
Don't forget there are limited subscriptions available so don't miss this great opportunity to make a small amount everyday.
The Grey Horse Bot uses Betfair so you will need an account with them before you can use the Grey Horse Bot.You will also need to be operating the bot from a betfair approved location.- Some European countries and the USA are not permitted to use the betfair exchange. Please see betfairs own terms for clarification.

Requirements:
PC running Vista(tm), XP(tm), Win2000(tm), Windows(tm) 7 and Windows(tm) 8
and
Windows(tm) 10.

Broadband connection (best but will work with a dial up). The software needs to be running and connected to the internet while monitoring races.
*Survey is on going and 48 people have so far taken it.
Click the picture to get your FREE copy
Please "Gamble Responsibly" http://www.gambleaware.co.uk/

Privacy Statement | Disclaimer | Terms | Articles | Blog
---
© Copyright 2006 -
Sporting Bots Limited
, Registered Office: 29 Bath Rd, Swindon, Wiltshire, SN1 4AS Tel: 08455443966. Bot logo copyright Sporting Bots Limited.
Gambling is risky, do not bet with money you cannot afford to lose and be sure you understand what you will need to spend in order to get the returns indicated.